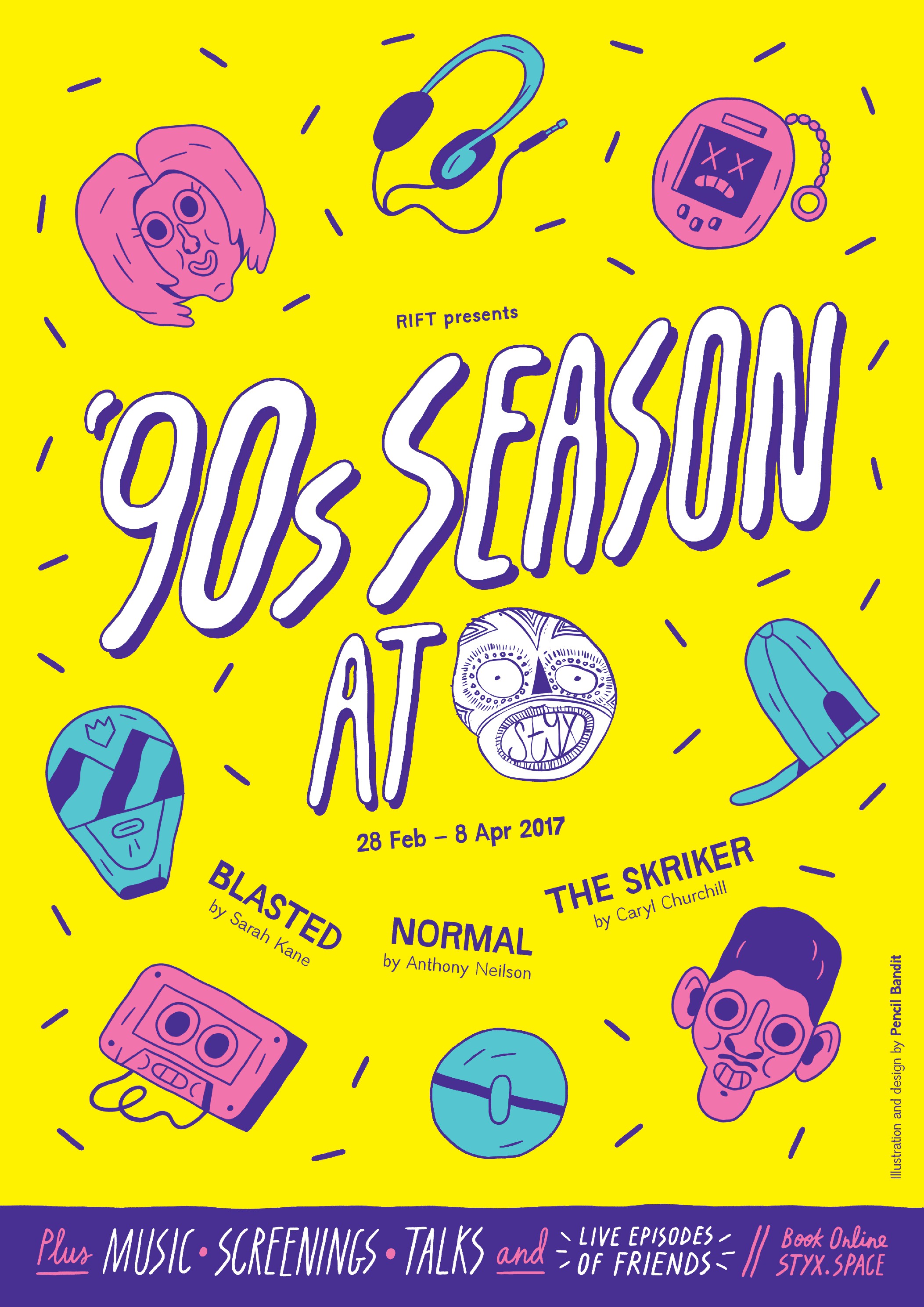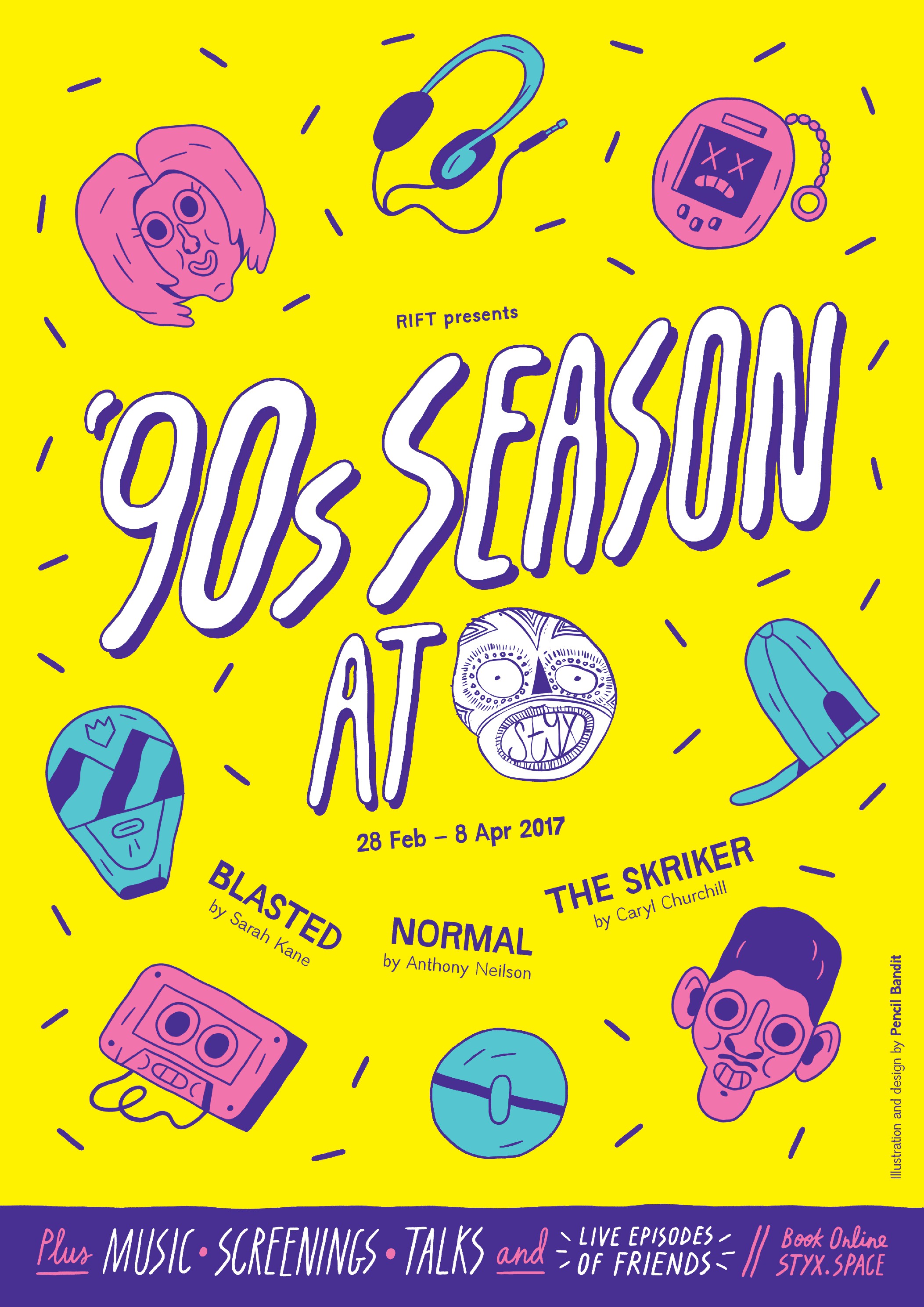 90s Season at STYX
For six weeks in March and April of 2017, RIFT produced a season of theatre centred around the decade of our youth: the 1990s.
We brought three plays from the era of In-yer-face to STYX , our ex-industrial space turned arts venue.
Blasted (Dir. Alastair Pidsley), Normal (Dir. Emma Baggott) and The Skriker (Dir. Gruff Theatre) each ran for two weeks and were supported by post-show discussions, screenings, parties, complementary performances and a writers residency programme.
Blasted, by Sarah Kane
A play about love and violence and rape and war.
A play that is invaded by and which invades our domestic everyday lives.
Director - Alastair Pidsley
Design - Grace Smart
Lighting - Matthew Vile
Sound - Kieran Lucas
Ian - Nigel Barrett
Cate - Verity Kirk
Soldier - Nima Taleghani
"Part of this venue's '90s Season, the show is intelligently directed by Alastair Pidsley, whose brave and committed cast — Nigel Barrett (Ian), Verity Kirk (Cate) and Nima Taleghani (Soldier) — do Kane's play proud."
Aleks Sierz, via sierz.co.uk
"Up-and-coming young director Ali Pidsley's new production of Sarah Kane's 1995 debut play Blasted is fascinating in myriad ways.... There are some brilliant decisions and some beautiful moments here – designer Grace Smart's destruction of the hotel room stands out. ★★★★"
Andrew Haydon, for WhatsonStage
Normal, by Anthony Neilson
'You will choose your own truth depending on the foundations you have built your lives upon.'
Director - Emma Baggott
Design - Grace Smart
Lighting - Ciaran Cunningham
Sound - Giles Thomas
Justus Weiner - Corey Montague Sholay
Peter Kurten - Richard Ede
Frau Kurten - Cathy Walker
Emma Baggott's astute revival, meanwhile, plays much of the action across a metal table that conjures both abattoir and morgue. She also draws fine performances from all three actors, including Cathy Walker as Peter's wife who, like Wehner, becomes a puppet in the hands of a man who is disconcertingly portrayed as the most charismatic character on stage. ★★★★.
Lyn Gardner, for The Guardian
Ground-breaking theatre company RIFT found that the play's message still resonated in 2017 and have brought us a sleek revival with a strong cast and a visually striking design. ★★★★
Everything Theatre
 
The Skriker, by Caryl Churchill
"There earthquakes are coming and we're eating white fish and mashed potatoes"
An ancient, damaged shapeshifter known as the Skriker torments two women's lives.
This production was directed and devised by GRUFF Theatre.
GRUFF - Thomas Bostock, Alistair Foylan, Phoebe Naughton, Holly Shuttleworth
Design - David Curtis-Ring
Lighting - Sorcha Stott-Strzala
Sound - Will Berger
Costume - Rachel Gammon
Skriker - Phoebe Naughton
Josie - Briony O'Callaghan
Lily - Jenny Swingler
Ensemble - Chidi Omari, Cordelia Stevenson, Derek Elwood, Eliot Vincent, Hilary Hodsman, Jonathan Blaydon, Kailing Fu, Nancy Ofori.
Gruff have managed to conjure a feeling of constant yet elusive threat. We don't know what it is we're afraid of, but we're afraid of something, and so we laugh nervously all the way through.
The Tung
Ten Plays 1990 - 1999; Writer's Residency
Since the inception of STYX, it has been home to numerous national and international residency programmes run by RIFT.
For this season, RIFT welcomes ten young writers, one born each year in the 1990s, to respond to their perception of the decade.
The residency ran alongside our season, the rehearsed readings of each piece being performed the first week of April.
RIFT would like to thank everyone who took part in the process, in particular our guest spears Rebecca Lenkiewicz, Sebastian Baczkiewicz, Amy Rosenthal and Ali Muriel.